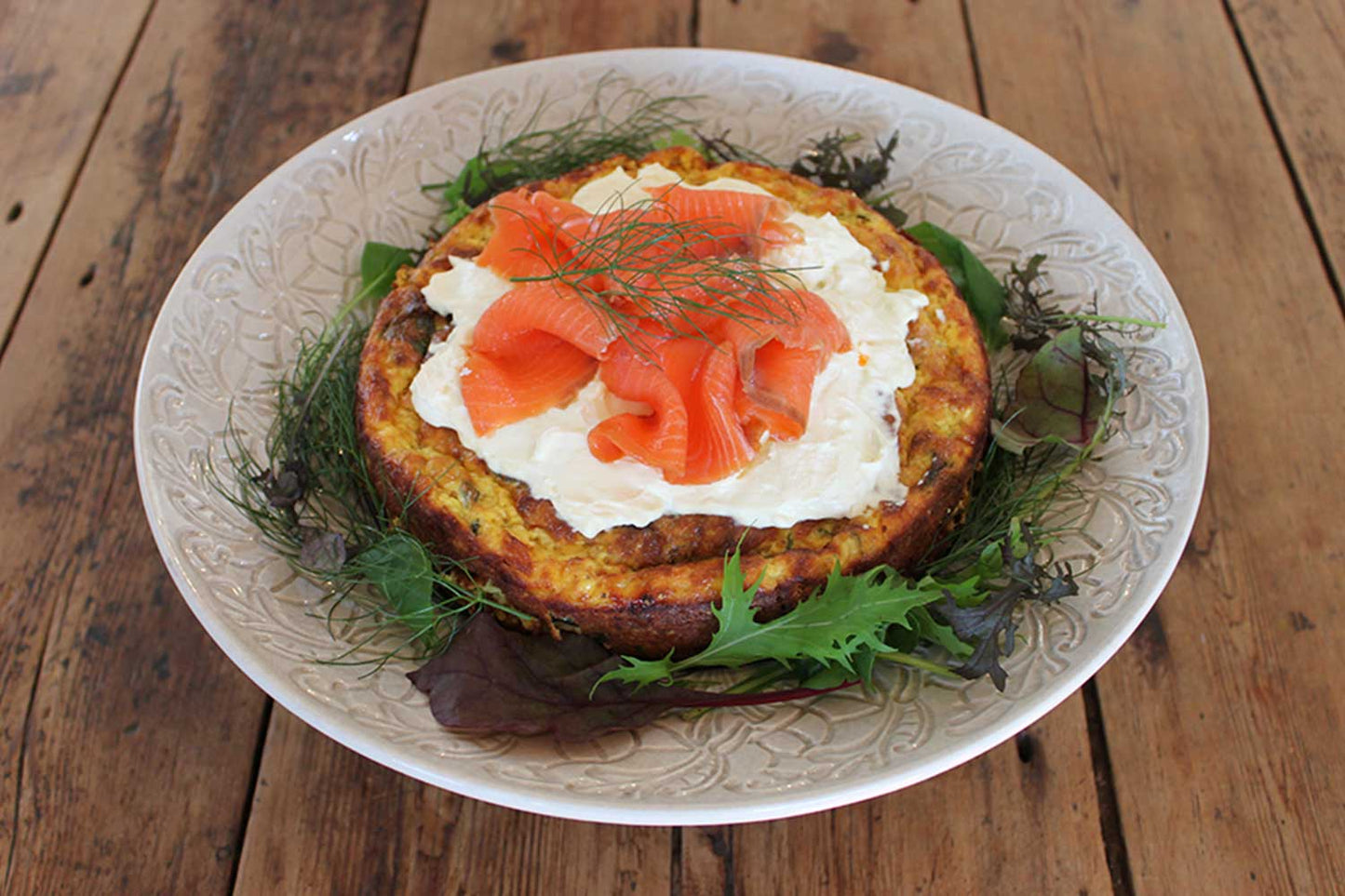 Serves 6.
Ingredients
½ cup quinoa
2 cups water (for cooking quinoa)
1 teaspoon ground coriander
1 teaspoon ground turmeric
1 teaspoon ground cumin
2 cups spinach leaves
6 eggs
½ cup cream
250gm Ricotta cheese
1 ½ cups grated Tasty Cheese
¾ cup grated Parmesan cheese
2 cloves crushed garlic
Zest (finely grated) of a lemon
Salt and Pepper to season
Garnish
100gm Cream Cheese softened with a drizzle of cream
100gm Smoked Salmon or your favourite baked/grilled vegetables. We love to use baked cauliflower or grilled zucchini
Mehtod
Preheat oven to 180° C. Grease and line a 23cm round spring-form cake tin with baking paper.
Place the quinoa and water in a small saucepan with the coriander, turmeric and cumin. Bring to the boil, then allow to simmer for 15 minutes. Once the quinoa is cooked, rinse and strain. Set aside to cool.
Place the spinach leaves in a sieve or colander and pour boiled water over to lightly wilt the greens. Spread out on paper towel or a clean tea towel to absorb excess moisture.
In a large bowl, whisk the eggs and cream and season well with salt and pepper. Stir in the three cheeses, quinoa, spinach, garlic and lemon.
Pour into prepared cake tin and bake for 35-40 minutes or until the tart is puffed and golden and no longer wobbly in the centre. Cool in the tin for 20 minutes before removing.
Spread with cream cheese and your favourite topping. We love smoked salmon and dill. Though vegetarian options of baked cauliflower or grilled zucchini work really work also.