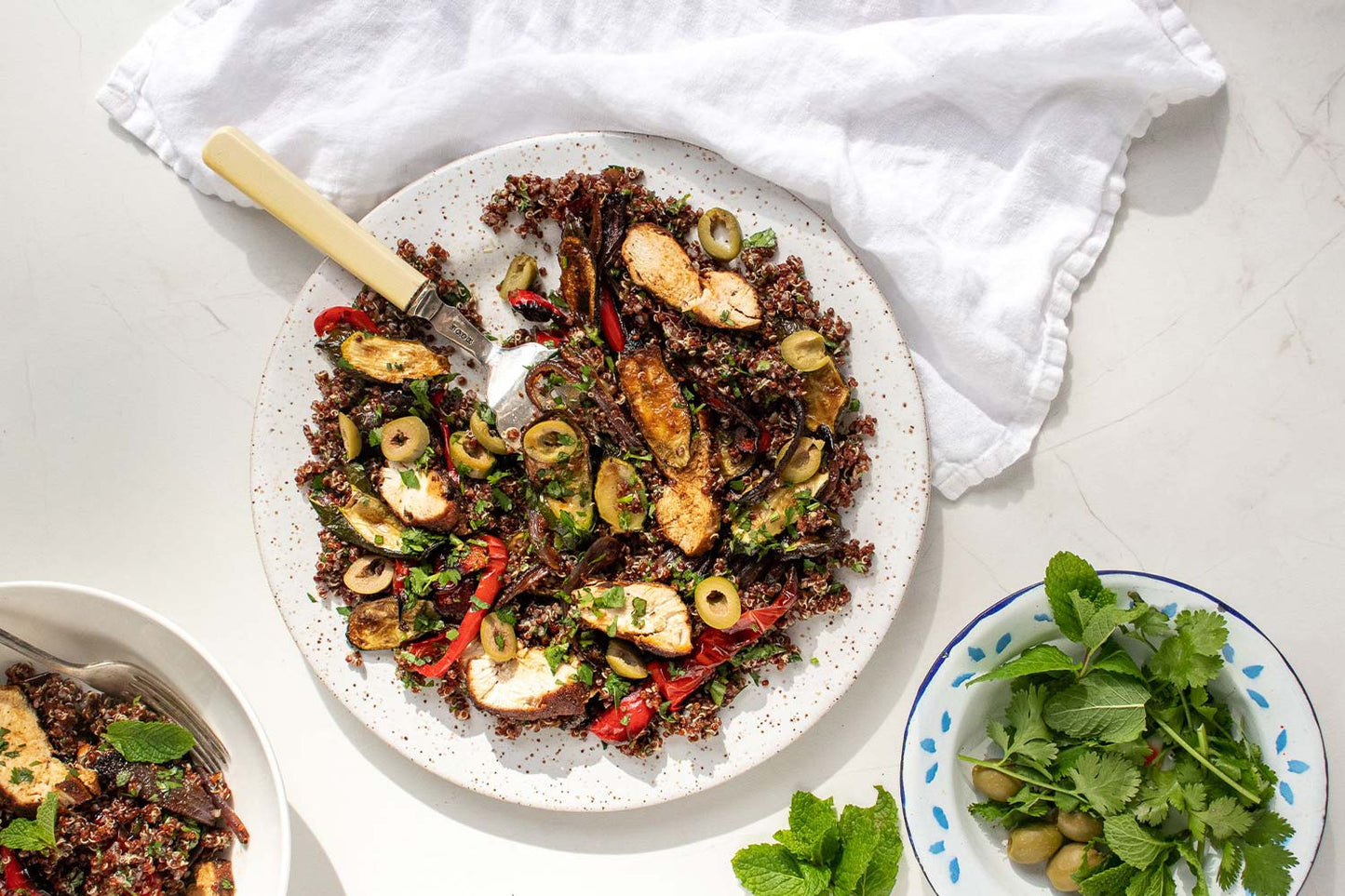 Crispy pieces of cajun chicken paired with roasted vegetables and quinoa that is marinated in a vinaigrette with lots of mint, coriander, olives and dried dates for sweetness. All the elements of a delicious salad.
Ingredients
Cajun chicken
400-500g chicken breast
1 tsp dried oregano
2 tsp smoked paprika
1 tsp ground cumin
1 tsp ground coriander
Salt and pepper
Olive oil for cooking
Roasted vegetables
2 capsicums (sliced)
2 zucchinis (cut into rounds)
1 red onion (cut into wedges)
Salt and pepper
Olive oil
Quinoa salad
1 ½ cups cooked quinoa
½ cup mint (finely chopped)
½ cup coriander (finely chopped)
5 dried dates (finely chopped)
¼ cup pitted green olives (sliced)
2 Tbsp red wine vinegar
2 Tbsp olive oil
Method
Preheat the oven to 200 degrees, fan bake.
Add the capsicum, onion and zucchini to a large baking tray. Drizzle over a generous amount of olive oil and season with salt and pepper.
Pop in the oven to roast for 30 minutes or until golden brown and starting to char in places.
In the meantime, add the spices for the chicken into a small bowl and mix well. Sprinkle over the chicken breasts and press down to make sure it sticks.
Heat a large pan over a medium heat and add 1-2 tablespoons of olive oil. Add the chicken breasts and cook for 6-8 minutes on each side (depending on the size of the breasts).
While the chicken is cooking, prepare the salad. Add the quinoa to a large bowl with the mint, coriander, dates, olives, red wine vinegar and olive oil.
Once the vegetables have cooked, add them to the salad and toss well.
Slice the chicken breast and add to the salad.