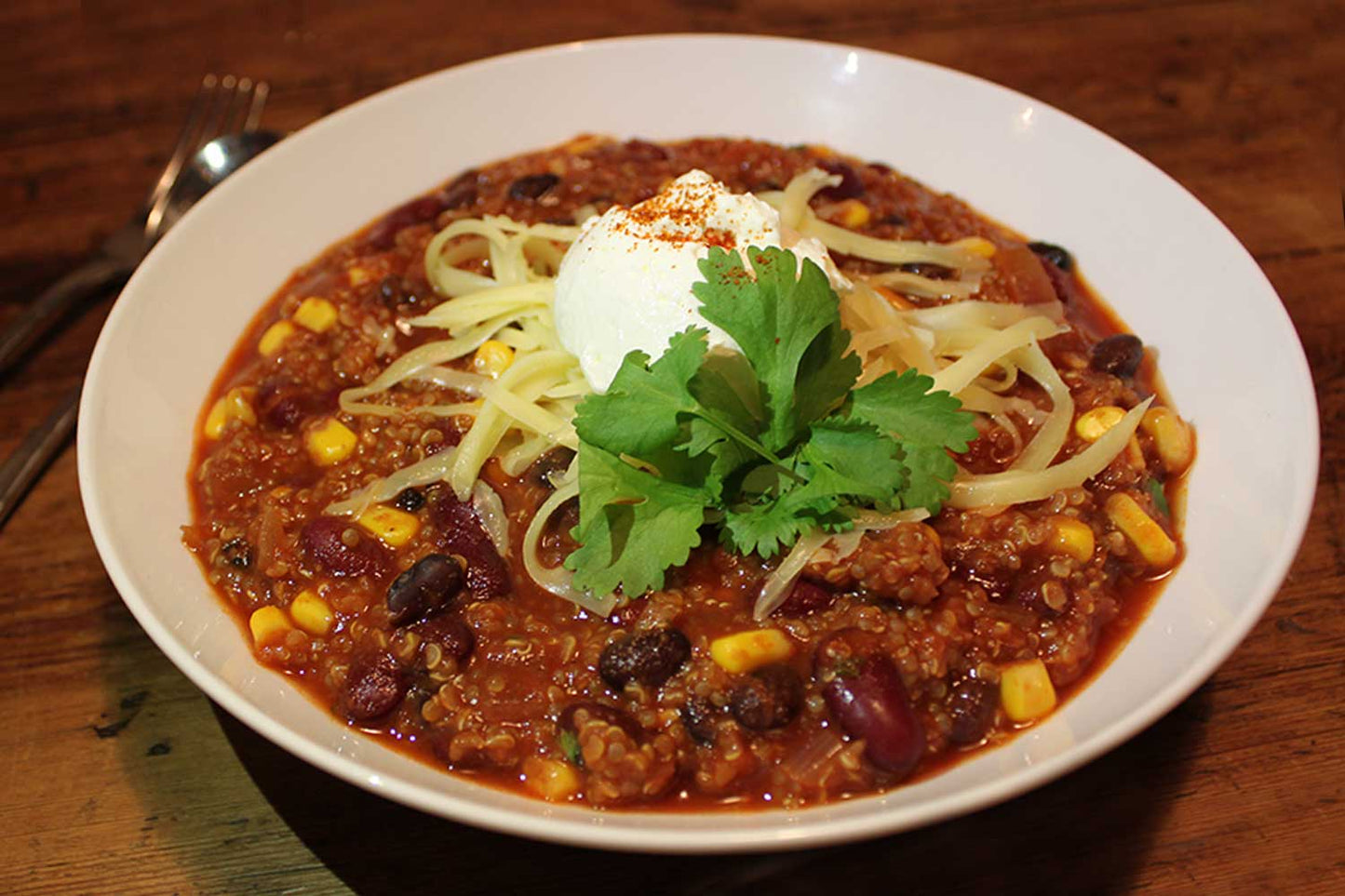 Serves 6.
Ingredients
2 cups cooked quinoa
1 tablespoon Extra Virgin Olive Oil
1 large onion, red or brown, diced
1 red capsicum, diced
4 cloves garlic, crushed
800gm diced or sieved tomatoes
2 tablespoons tomato paste
2 cups vegetable or chicken stock
2 tablespoons Chili Powder
2 teaspoons ground cumin
2 teaspoons cocoa powder
2 teaspoons paprika
1 teaspoon ground coriander
1 teaspoon cayenne pepper (if you like it hot!)
Salt and Pepper for seasoning
2 x 400gm cans kidney beans, drained and rinsed
1 x 400gm can black beans, drained and rinsed
1 x 400gm can corn kernels or fresh corn if in season
½ cup Coriander, chopped
Juice of 1 lime
Garnish
Sour Cream
Grated Colby or Tasty Cheese
Method
Heat the oil in a large saucepan over high heat. Add the onion and cook, stirring, for 4 minutes or until softened.
Add garlic and capsicum and cook for a further minute. Add in diced tomatoes, tomato paste, cooked quinoa, vegetable stock, chilli powder, cumin, cocoa, paprika, coriander, cayenne pepper and season with salt and pepper to taste.
Bring mixture just to a boil, then reduce heat to a simmer. Allow to simmer for 30 minutes.
Add in the kidney beans, black beans, corn, fresh coriander and lime and cook until heated through. Serve hot with grated cheese, sour cream and fresh coriander leaves.