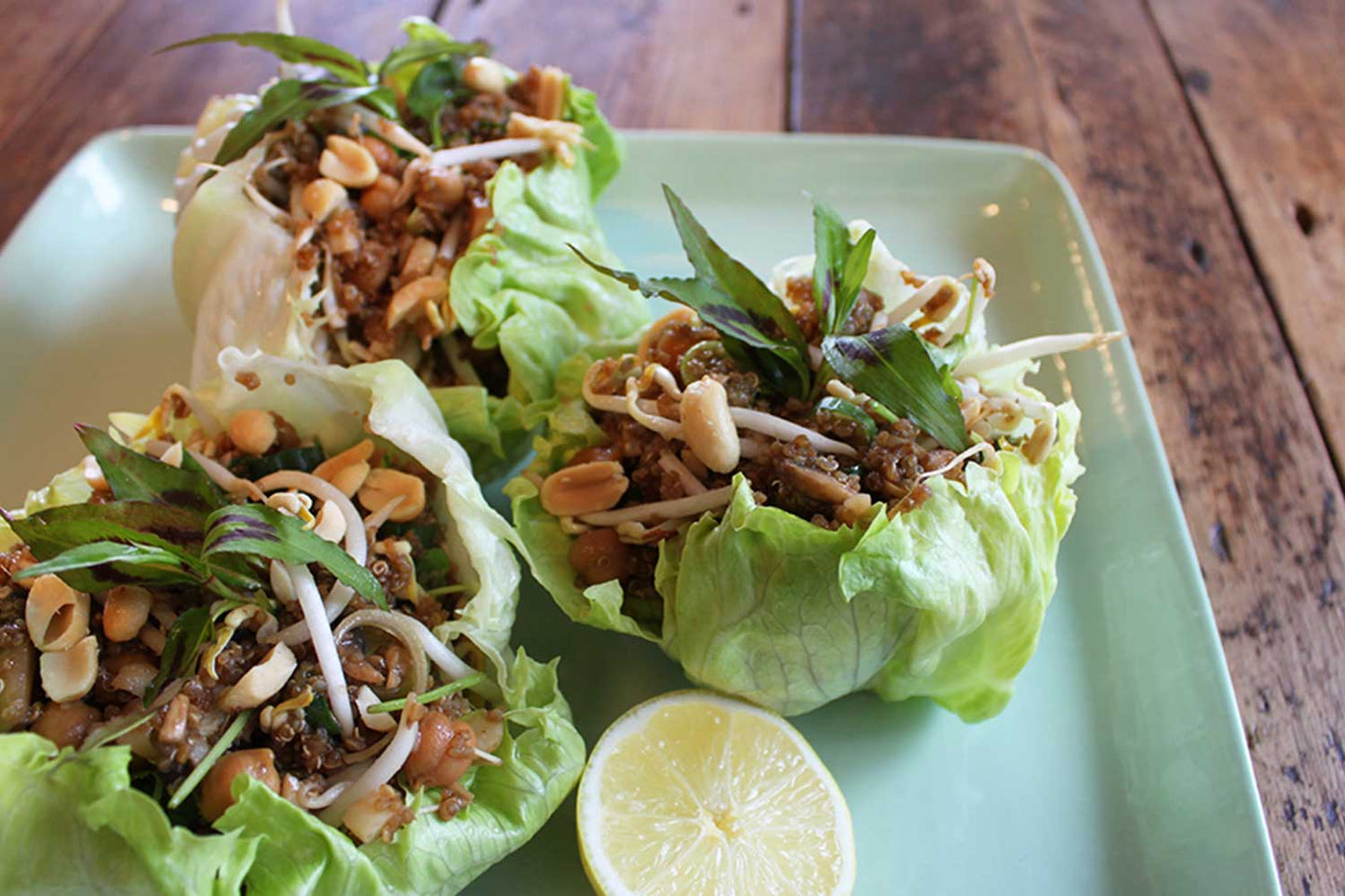 Serves 4
I love the crunch and delicious Asian flavours of San Choi Bao. The quinoa, mushroom and chickpea combination (instead of your typical minced meat) are a lovely texture and surprisingly satiating. The fresh coriander and Vietnamese mint or basil really make this dish sing.
Ingredients
1 tablespoon macadamia nut oil
1 cup button mushrooms, finely cubed
2 medium chilies, seeded and finely chopped
1 tablespoon fresh ginger, grated
2 cloves garlic, finely chopped
3 tablespoons tamari (or soy sauce)
2 tablespoons maple syrup
2 tablespoons sesame oil
Filtered water
1 ½ cups Kiwi Quinoa, cooked
1 cup cooked chickpeas
½ cup water chestnuts, cubed
1 spring onion, finely sliced
¼ cup coriander, chopped
2 tablespoons Vietnamese mint or basil, chopped (if available)
Juice of 1 lime
To Serve
Iceberg or cos lettuce cups
1 cup of mungbean sprouts, as garnish
¼ cup roasted and salted peanuts, as garnish
Method
Heat the macadamia oil in a large frying pan or wok over medium heat.
Stir fry the mushrooms, chili, ginger and garlic until the fragrance develops, approximately 2 minutes.
Stir in the tamari, maple syrup, sesame oil and about ¼ cup filtered water.
Add the cooked quinoa, chickpeas and water chestnuts and combine well.
Finally add the spring onion, coriander, Vietnamese mint or basil and lime juice. Spoon the mixture into the lettuce cups and garnish with mung bean sprouts, roasted peanuts and fresh herbs.