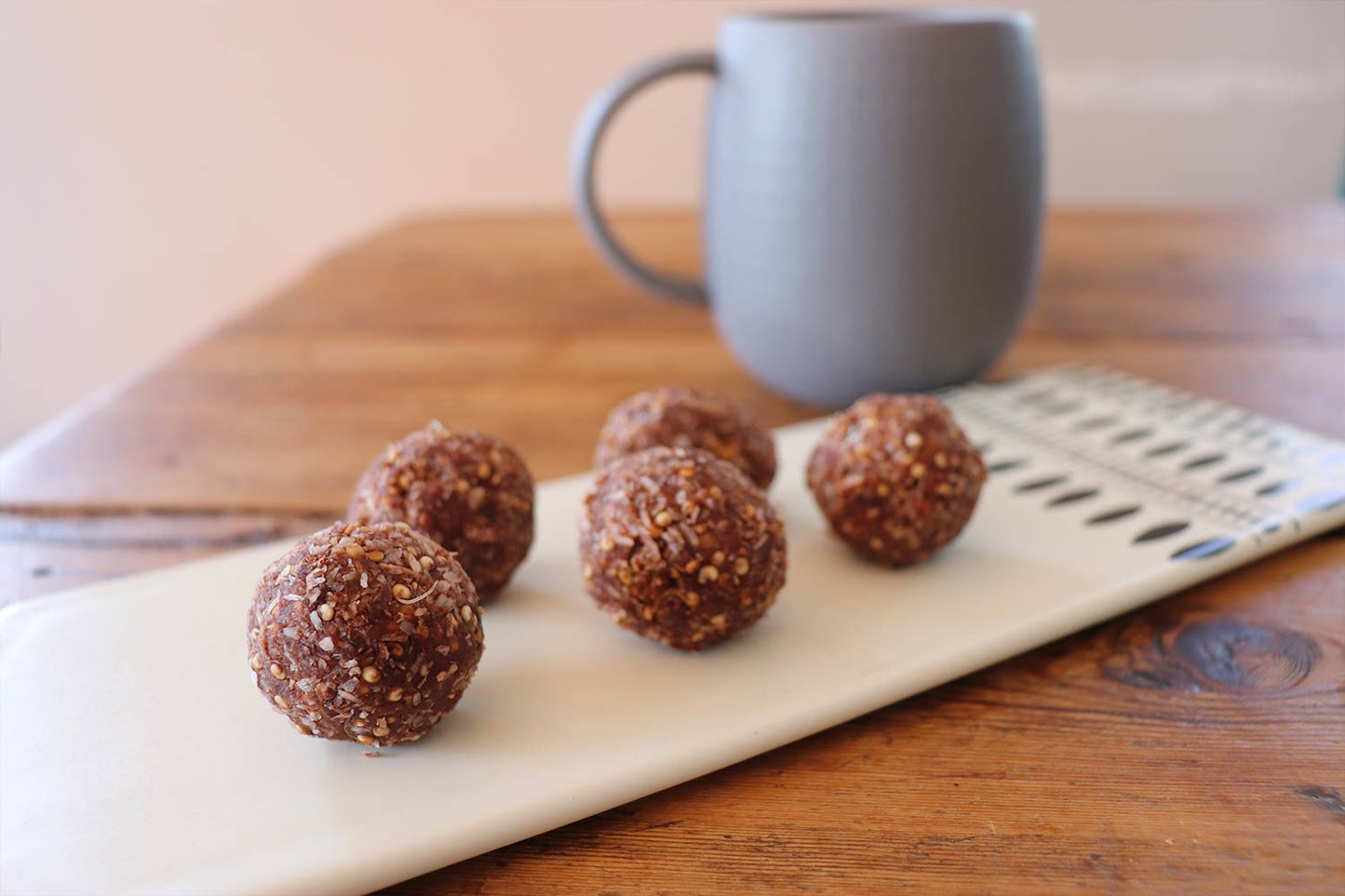 Makes 20 balls.
Bliss balls are a fabulous, fast, go-to snack or treat. Our children love these sprouted quinoa chocolate bliss balls and we love that they are getting all the goodness of sprouted quinoa, healthy fats and protein in an easy, refined sugar free snack. The only commitment is to sprouting your quinoa. It's not difficult, it just takes time as all good things do!
Ingredients
4 tablespoons nut butter (almond, peanut, cashew etc)
2 teaspoons coconut oil, melted
10 dates, roughly chopped and soaked in boiling water for 5 minutes, then drained
Pinch sea salt
1 teaspoon vanilla bean paste
2 teaspoons cacao powder
½ cup Kiwi Quinoa, sprouted (36-48 hours)
1 cup desiccated coconut
Method
In a medium sized bowl combine the nut butter, melted coconut oil, soaked dates, salt, and vanilla bean paste and mix well.
Add the cacao powder, sprouted quinoa and desiccated coconut to the wet ingredients and mix until well combined.
Using clean hands and a tablespoon, roll the mixture into balls. Store in an airtight container in the fridge (up to 5 days).
Sprouting Instructions
To sprout your Kiwi Quinoa, rinse under cold water in a fine mesh sieve. Place the quinoa in a bowl with 3 cups of water and allow to soak for 8 hours in the fridge. Strain the quinoa and rinse thoroughly then leave the quinoa in the sieve and place over a bowl and put back in fridge. Rinse the quinoa in the sieve every 12 hours (another 3 to 4 times) and it's ready to use. Fine white sprouts will start to emerge from your quinoa seeds.