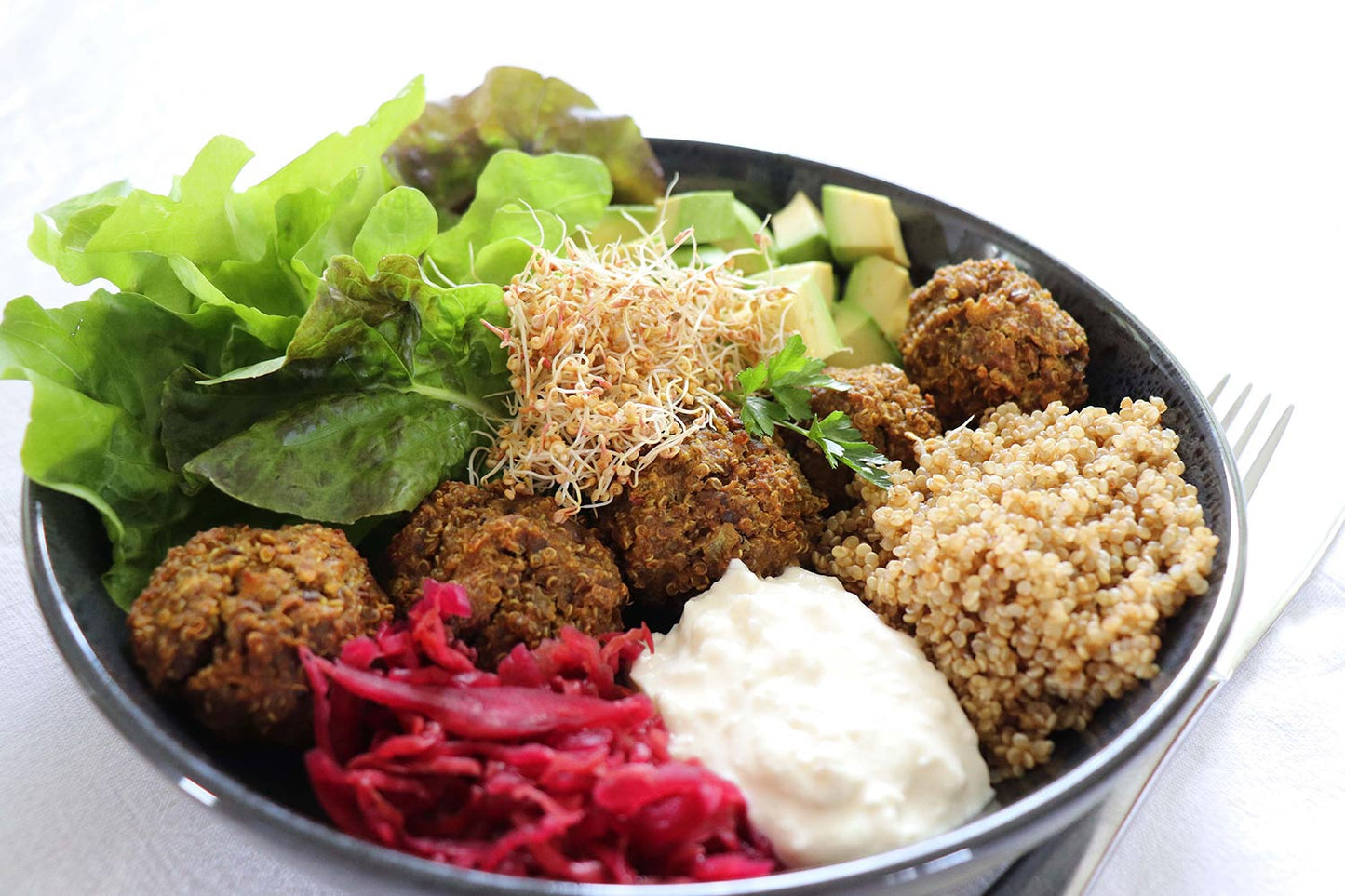 Serves 6-8
Quinoa and lentil balls served with lemon feta smash are amazing served hot or cold. We love to enjoy them as part of a buddha bowl with all your favourite greens and vegetables, avocado and topping it off with a colourful kraut or kimchi (we love Forage and Ferment for their delicious gut-loving ferments). A very easy recipe to whip up for lunch, they only take 15-20 minutes in the oven.
Ingredients
3 tablespoons butter
1 brown onion, finely diced
3 cloves garlic, minced
4 teaspoons ground cumin
4 teaspoons curry powder
1 teaspoon cinnamon
400g canned Brown Lentils, drained and rinsed
1 cup quinoa, uncooked
1

½ 

cups almond meal
2 tablespoons soy sauce
2 eggs
Olive oil (or macadamia or avocado oil)
Lemon Feta Smash
200g Feta
Juice of 1 lemon
1 tablespoon lemon rind
Method
Preheat oven to 200 degrees Celsius. Line 2 oven trays with baking paper.
Rinse quinoa in sieve, place in pot and top with 5 cups water. Cook on medium heat for 15-20 minutes with lid on until quinoa tails release. Rinse and strain well.
Melt butter in a medium sized frying pan on medium heat. Cook onion and garlic with a pinch of salt for 5 minutes until softened. Add spices and cook for 1 minute. Remove pan from heat and add remaining quinoa and lentil ball ingredients. Use a fork to lightly mash until combined but still chunky.
Use a heaped tablespoon measure and damp hands to shape mixture into balls. Place on prepared tray. Drizzle with olive oil or macadamia oil or avocado oil and season with salt and pepper.
Bake for about 15 to 20 minutes or until golden brown.  Turn halfway to ensure even browning.
Crumble Feta into a small bowl and add lemon juice and lemon rind. Using a fork smash the ingredients together until they form a thick paste. Add a little water to get the desired consistency.
Serve the Quinoa and Lentil balls with a fresh salad, vegetables and a generous dollop of lemon feta smash!