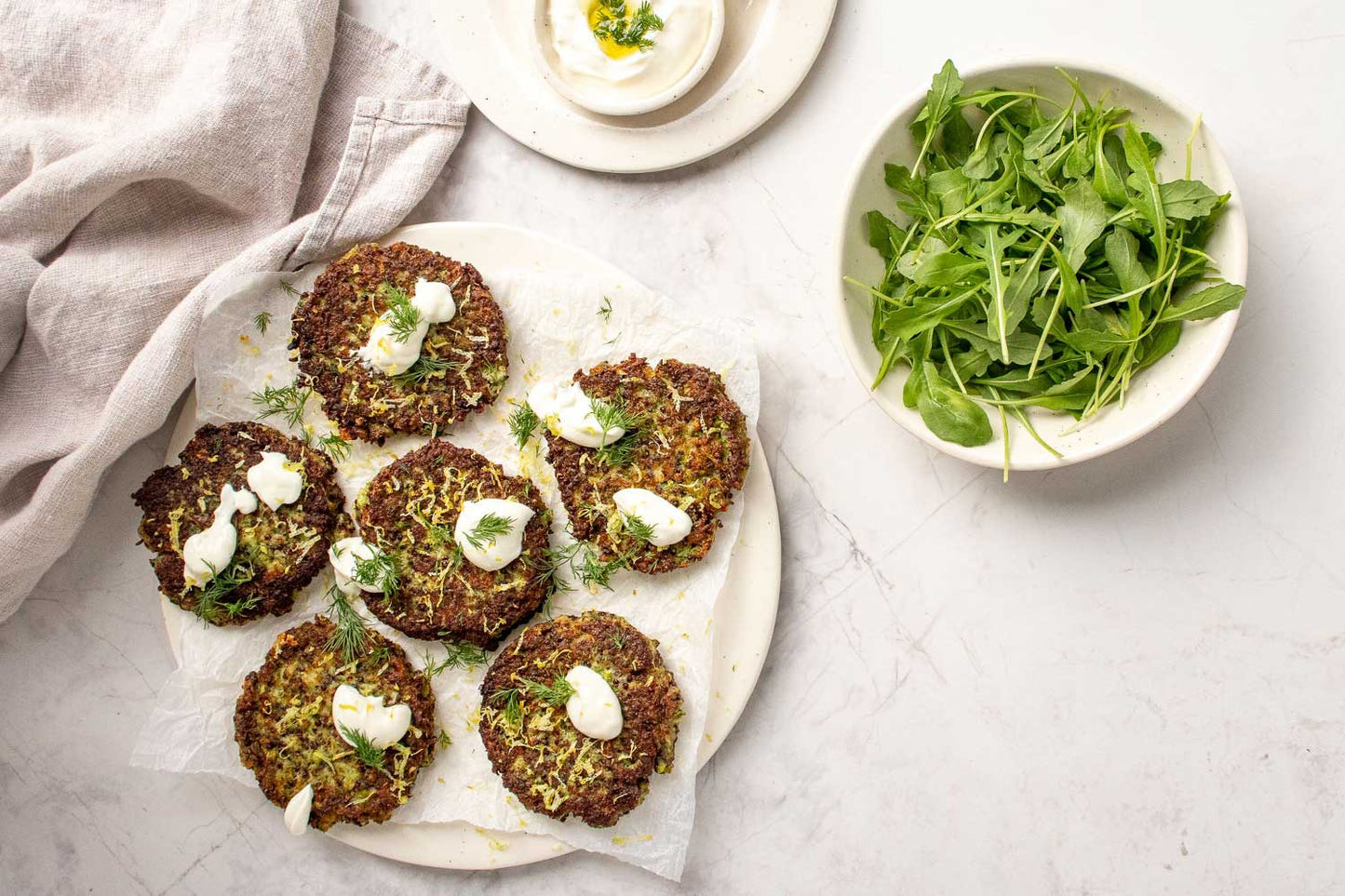 These healthy broccoli fritters are perfect for the whole family to enjoy and a great way to sneak some extra veggies in for the little ones. Our red quinoa gives them a delicious flavour and texture and is also loaded with plant-protein.
Makes 8 - 10
Ingredients
1 cup cooked red quinoa
1 broccoli (cut into florets)

½

red onion (grated, and excess moisture removed)
1 clove garlic (crushed)
2 eggs

½

cup flour
1 cup cheddar cheese (grated)

½

cup tender herbs, we used dill and parsley
Salt and pepper
Olive oil for cooking
⅓ cup Greek yoghurt
Juice of ½ a lemon
1 clove of garlic (crushed)
Method
Steam the broccoli until just cooked, you want it to still have a nice bite to it.
Add the quinoa, broccoli, onion, garlic, eggs, flour, cheddar cheese, herbs and a pinch of salt and pepper to a food processor. Blend until combined but don't over blend. You want the mixture to have a nice texture to it.
Heat a large frying pan over medium heat. Add a generous amount of olive oil and cook the fritters in batches for 2-3 minutes on either side or until golden brown and cooked through in the centre.
While cooking the fritters, we like to keep the cooked ones in the oven at 100 degrees to keep warm.
To make the zesty yoghurt sauce simply add all the ingredients to a small bowl and mix well to combine.
Serve the fritters alongside the zesty yoghurt sauce, with a sprinkle of extra herbs and some lemon zest.