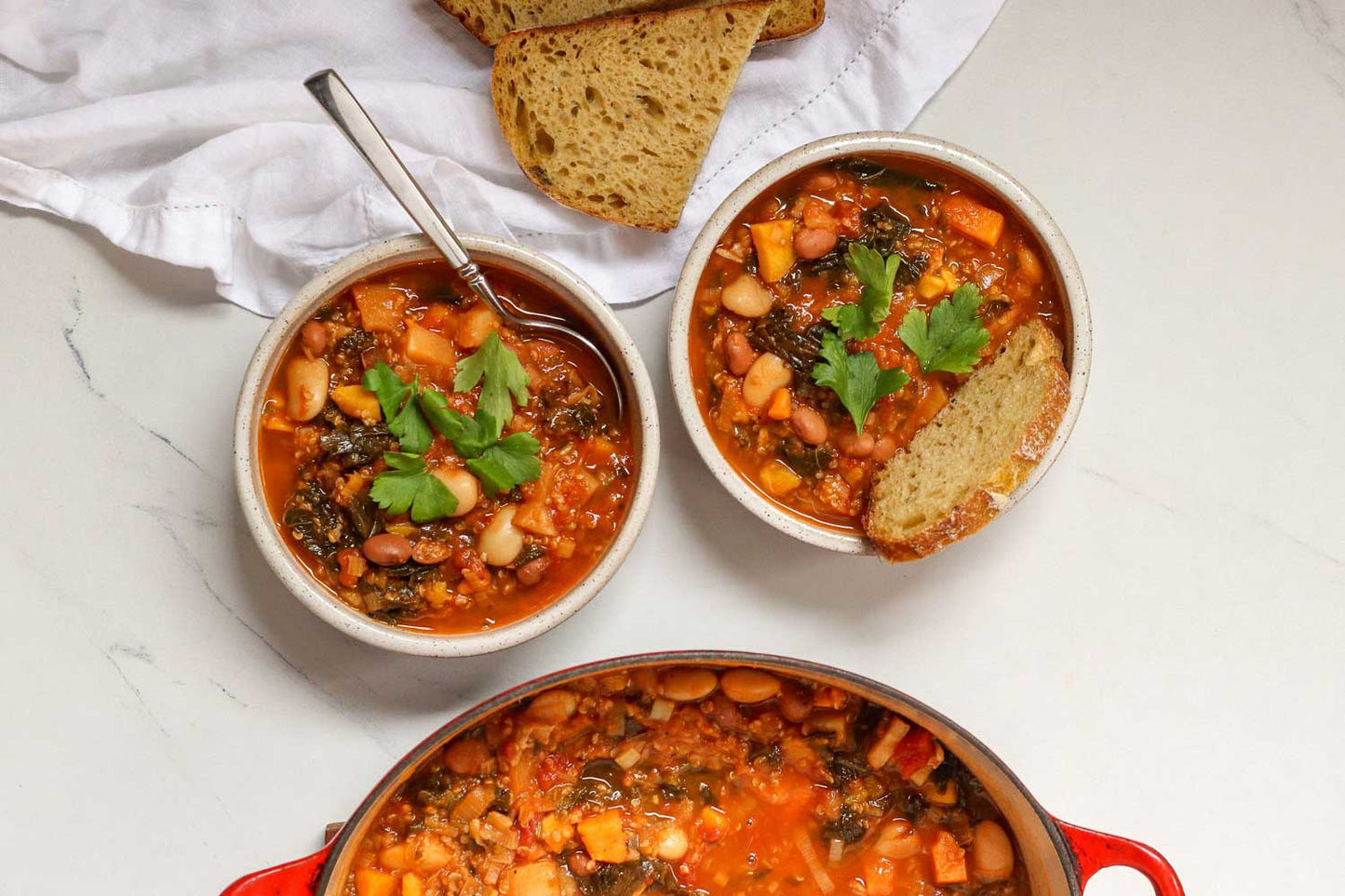 This is our take on a nourishing winter minestrone. Packed full of flavour and texture and using our quinoa instead of pasta. Perfect for these cold winter evenings.
Ingredients
3 tbs of olive oil or butter
100g bacon (optional)
2 leeks
2 carrots
2 parsnips
1 large sweet potato
3 cloves of garlic
A large handful of fresh herbs (we used rosemary, thyme and oregano)
1 cup Kiwi Quinoa
400g cooked butter beans
400g cooked bortoli beans
800g chopped tinned tomatoes
2 cups of kale (roughly chopped)
1-litre of bone broth or veggie stock
500mls water
Sea salt and pepper to taste
Instructions
Finely chop the leeks, carrot, parsnips, sweet potato and bacon (if using). In a large pot add the leeks and bacon with a generous drizzle of olive oil and cook until the leeks have softened and the bacon is crispy.
Add in the parsnips, carrots, sweet potato, herbs and garlic and cook for another 5 minutes or so until everything has softened.
 Add the bone broth or stock, water, tinned tomatoes and our quinoa.
 Allow to come to the boil then turn down to a gentle simmer for 20 minutes or so until the tails of the quinoa release. Then add in the beans, kale and salt and pepper.
Cook for another 10 minutes or so on a medium heat and then you're ready to serve. It is delicious as is or served with your favourite bread and a sprinkle of parmesan cheese.