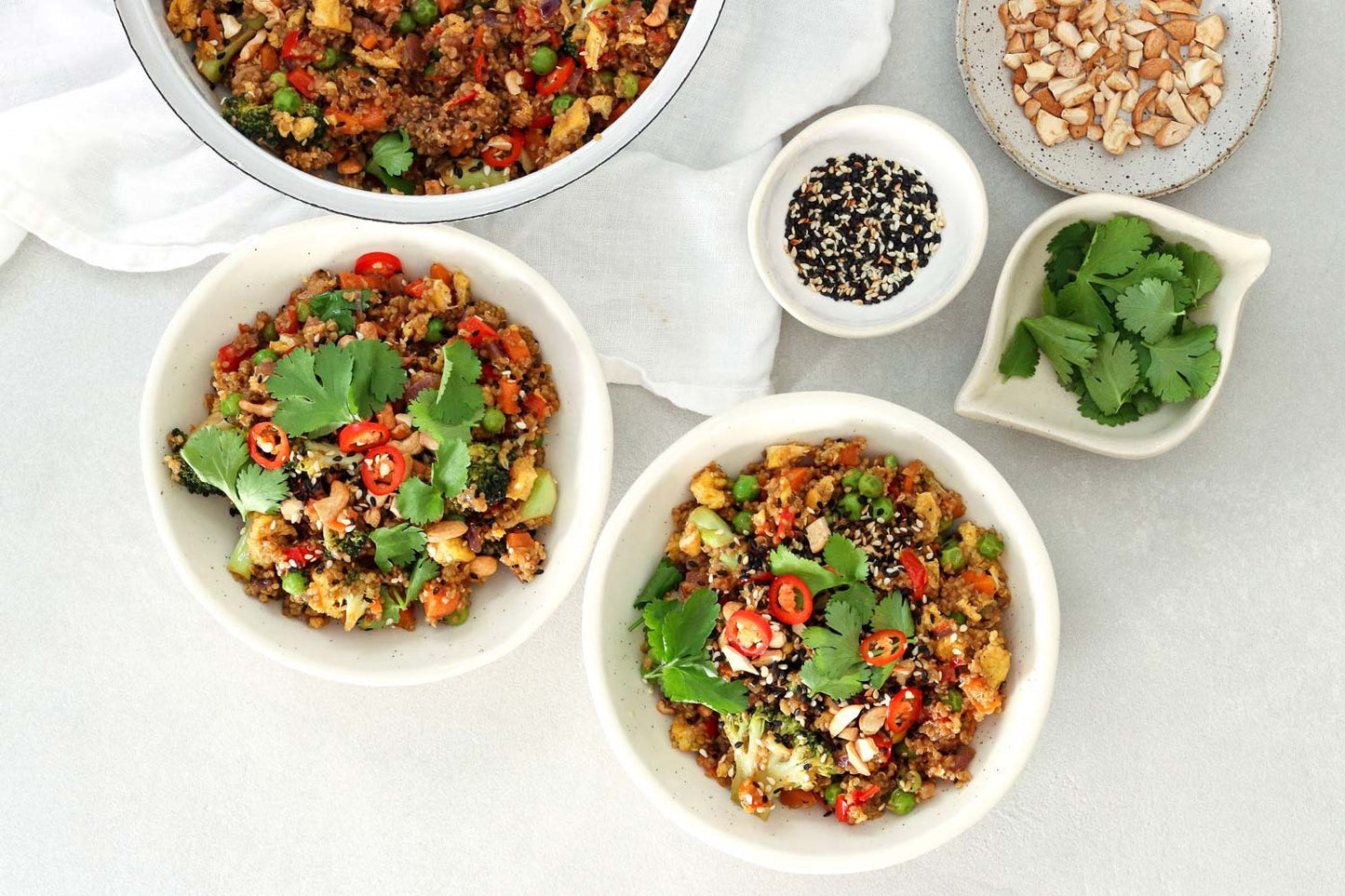 A not so traditional but delicious take on fried rice using our quinoa. This veggie-packed fried 'rice' is a perfect easy weekday meal and you can use whatever veggies you've got in the fridge. Using quinoa instead of rice ups the nutritional profile of the dish with lots of fibre and protein and tastes amazing!
Ingredients
2 tbs of coconut oil

½ 

a fresh chili (finely sliced)
A thumb-size piece of ginger (grated)

⅓ 

of a head of broccoli (roughly chopped into bite-sized pieces)
1 cup of frozen peas (defrosted)
1 capsicum (finely diced)
1 carrot (finely diced)
1 small red onion (finely diced)
2 cups of cooked and cooled Kiwi Quinoa
2 organic eggs
Juice of one large lime
4 tbs of tamari
1 tbs of fish sauce
1 tbs of maple syrup
1 tbs of sesame oil
1 tbs of smooth peanut butter or almond butter

¼

 cup dry roasted cashew nuts (chopped)
3 tbs sesame seeds
Fresh coriander
Method
To begin with, heat the coconut oil in a large pan or wok. Add the onions, chili and ginger and sauté for a few minutes before adding the rest of the veggies. Stir Fry until the vegetables have cooked through.
In the meantime, make the sauce by combining all ingredients into a small bowl and mixing well.
Grease a small pan with coconut oil. Whisk together two eggs and cook like you would a pancake. Once this has cooked chop into small pieces and set aside.
Turn up the heat and add the quinoa and sauce to the vegetables. Stir-fry for a few minutes. Turn off the heat and stir through the egg pieces.
Before serving top with the cashew nuts, sesame seeds and some fresh coriander.