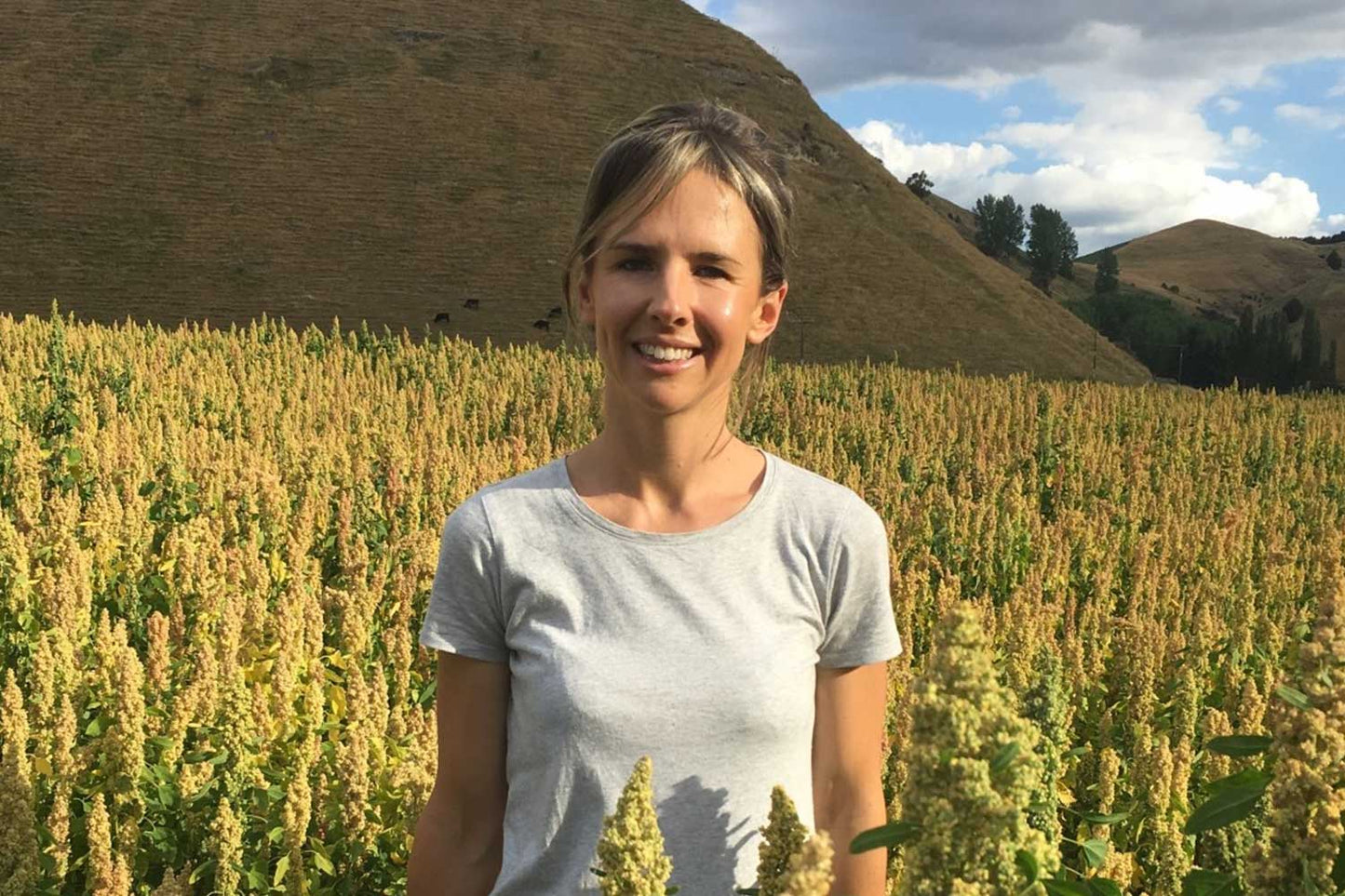 "Next week is ASB Perspective 2025, held as part of NZ AgriFood Week in the Manawatu. This unique event gathers nine influential female leaders in New Zealand food production for a fascinating roundtable discussion on how this country can remain at the forefront of the sector."
"We spoke to panellist Jacqui Cottrell, Founder and Director of Kiwi Quinoa, ahead of the event about her innovative business and the ever changing nature of agriculture today."
Growing populations, shifting demographics, and the next generation of workers and consumers are leading to an ever changing primary industry.
One of the companies leading the charge on innovation in the sector is Taihape's Kiwi Quinoa, the first producers of quinoa in New Zealand. Owners Dan and Jacqui Cottrell were travelling South America in 2012 when the pair noticed the similarities between Peru and the Central Plateau, where Dan's family farmed.
Inspired by the farming practices and the abundant crops of quinoa they encountered, as well as having a keen interest in consuming the superfood, they started researching.
"We looked into what others were doing with quinoa and no one in New Zealand was growing it at that stage on a commercial scale," says Jacqui. "We saw an opportunity in the market for a niche, high value crop that the world wanted."
"Little did we know how much there was to the process from growing it to marketing it, all the way to getting it in front of customers. There's been a lot of learning along the way."
From an initial 2014 trial, they found the perfect quinoa variety that suited their high altitude, Hill country farm, was saponin free (a naturally occurring phytochemical that acts like mother nature's  insecticide) and had a short growing season of 110 days. As Jacqui notes, the stars had aligned.
"From there we had to sow seed stock to supply enough for a commercial harvest. In 2016, the first year, we harvested a ton and a half, so it was humble beginnings, but we had imported 40kgs to get to that ton. We were pretty happy with the multiplication there."
"We sold two thirds to our first customer Sabato, a premium food stockist in Auckland. They put it in front of some pretty influential chefs and cafes so that was an amazing launch for us."
What was really surprising however was the response from other members of the primary sector. Jacqui is quick to note just how overwhelming the support has been, even if there is some trepidation around how to make the most of quinoa.
"People are just kind of figuring out what to do with it, how to prepare it and what to include it in. That's what Dan and I have identified as the biggest barrier to increasing the per capita consumption, getting people to use it on a weekly basis. We're taking away the fear and letting people know how they would use it beyond just a salad, to break down that barrier."
Despite this, the encouragement the pair has seen is part of an overall shift in consumer attitudes. Recent studies in the US have shown that consumption of alternative proteins, like quinoa and other plant proteins, is growing at a rate of 4-10 times faster than conventional proteins.1 Jacqui and Dan remain very supportive of traditional proteins, but also see tremendous opportunity for New Zealand.
"Grass fed lamb and beef is an incredible product sought after across the world. Not that many countries have a climate with the potential of year round pasture. It's a unique growing environment. But it's important to be aware of changing attitudes from consumers."
"I think New Zealand has a pretty incredible opportunity. There is already the perception that we produce safe, clean food. I think we have the potential to take that and run with it. Potentially move further into the regenerative space. Based on my experience and consumer demands, particularly those interested in quinoa, people are very interested in the agrichemicals being applied their food, or whether or not it's been genetically modified. They're more interested in what it doesn't have than what it does."
"Look at the changes happening overseas. France is phasing out the use of glyphosate over the next 3 years. Russia has made big claims about wanting to be the biggest exporter of organic foods in the world. Big agricultural countries are making some strategic moves in that direction. I feel we need to take note of that. Innovating in that space and moving beyond chemical based agriculture may be our biggest opportunity at the moment. As transparency increases around the way our food is produced, I believe consumers will be voting with their dollar and opting for spray-free/organic/regeneratively farmed produce. . If we can address those concerns, it puts us in a position of power that not many other countries have."
Richard Hegan, ASB's GM of Rural Banking, says that the production of high quality food that can balance the needs of both consumers and stakeholders has reached a critical stage.
"The sectors willingness to innovate and challenge itself to do things better has provided New Zealand with a world-class reputation for producing safe, high-quality food. Now, there are tremendous opportunities for New Zealand agrifood to deliver on its potential."
'The Future of food' is the focus of this year's NZ AgriFood Week, where Jacqui will join the ASB Perspective 2025 panel with other prominent female leaders from the primary industries. Learn more about the event on the New Zealand AgriFood Week website.
Source: ASB